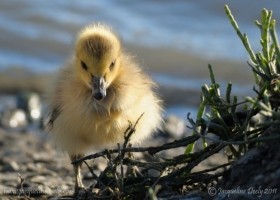 "With the coming of spring, I am calm again."
~ Gustav Mahler  
I remember when I lived in Massachusetts and my mother would say that spring was her favorite season. I couldn't relate. The problem for me at the time was that in New England, spring comes late and doesn't stay long.
Now, living in the south, spring comes much earlier and with much more gusto. It's truly a time of new beginnings and every spring I get a sense of relief that the cold days have passed again.
I have come up with 12 things I love about this time of year.
Living creatures are twitterpated. If you have seen Bambi, you know what I'm talking about. Geese segregate into pairs. So do ducks. So do bees and small birds. There is a feeling of happiness and mingling in the air.
Butterflies. I love the sight of butterflies. Big ones, small ones, brightly colored ones, less colorful ones. They dip, soar and fly quickly, announcing the arrival of spring.
New life. We have geese living behind the apartment complex where I live, and every spring they deliver a fresh batch of tiny yellow goslings. In the trees are new nests for smaller birds, and everywhere I look there is new life: tiny toads, tiny birds, tiny fish.
The sound of birds singing. More than any other time of year, the air is filled with the sound of songbirds singing happily. There is a cardinal that comes to my window daily and tweets until I look up and acknowledge his presence. There is a mockingbird that begins making a variety of sounds right outside my window at dawn.
Crocuses. Maybe my New England roots are showing, but I'm very fond of crocuses, the first plants to show a sign of life in the spring.
Buds on the trees. Another sign of rebirth is the hint of life that starts to show on bare branches. As trees are covered with more and more leaves, some of them burst into flower, seemingly overnight.
Green grass. When the grass gradually transitions from brownness and drabness into a burst of bright green, it is a reminder that the season of beauty and life has returned.
Dandelion seeds. I am not a homeowner, so I find tufts of dandelion seeds delightful. My grandchildren blow the white tufts off the stems, and my heart smiles, remembering.
Lilacs. What is more refreshing in the spring than the smell of lilacs? In high school, I walked to school and passed several lilac trees on the way. I could inhale the unforgettable fragrance, and the smell of lilacs still brings me joy.
Tennis and other spring sports. Tennis will always be dear to my heart, and as the weather starts to warm, it's a reminder that it's time to pick up a racket. Some prefer baseball, biking or jogging, but whatever sport appeals to you, it's time to step outside and be more active.
Warmth. The feeling of the sun on my face is one of the best things I can ever experience. What a relief to put away sweaters and winter coats.
Hope of a new beginning. It's time to start over, experience joy, comfort, curiosity and rebirth.
It's spring.
The late Robin Williams said, "Spring is nature's way of saying, 'Let's party!'"
Enjoy this exquisite spring day.
What do you love about spring?