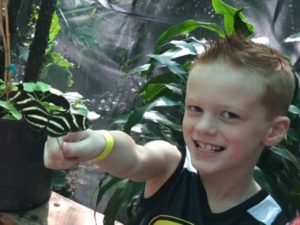 "Today is life – the only life you are sure of. Make the most of today."

~ Dale Carnegie 
Yesterday was a memorable day for my family. My older daughter is a hair stylist so she almost always works on the weekend and is typically not available to do things with the family on Saturdays or Sundays. She happened to have yesterday off, and we planned a special day of making memories.
I am very fond of butterflies, and there was a butterfly exhibit at Roper Mountain Science Center here in Greenville, SC. It was an opportunity for us to walk among several species of butterflies in an enclosed area. The staff of the science center provided us with sticks dipped in Gatorade, telling us that the sugar would attract the butterflies.
It did. My younger daughter and my grandson were able to experience having a butterfly land on the end of the stick they were holding.
Moments to remember such as these are priceless.
Other Simply Happy Activities
We also enjoyed other indoor exhibits at the science center yesterday, including turtles, a few snakes and a touch tank. The grandkids were able to make paper butterflies at a craft area. My younger daughter and all but one of the grandchildren that were present joined Roper Mountain's "Eat a bug" club. They rose to the challenge of eating a cricket! That wasn't something I wanted to experience personally, but it helped make it a day to remember.
We were told that the science center also had an area with farm animals, but we opted not to go there because of the heat and humidity. It was probably 93 degrees or so, which meant we thought we'd be more comfortable if we sought out air conditioning.
Later that afternoon, we all went to see "Finding Dory", the sequel to "Finding Nemo." It was a fun, heartwarming movie which we thoroughly enjoyed.
What we enjoyed the most was the opportunity to spend time together.
How Life Evolves and Changes
In my family, we are on the brink of major change. My younger daughter is heading away to college in the fall and will be hundreds of miles away. My oldest granddaughter will be starting middle school.
Did you ever watch a flower grow on time lapse photography?  Everything around us is actually evolving and changing imperceptibly right before our eyes. We just can't see the tiny signs of change. Images caught on time lapse photography give us a glimpse of how things are changing even though we can't see all that's going on right under our noses. Check out the work of Louie Schwartzberg if you have never seen it.
The simple, happy moments of family togetherness are the stuff memories are made of. These are experiences that will never come again. If we get to visit the butterfly exhibit again sometime in the future, we will all be a bit older and we will be changed. We all will have had our own different experiences between now and then that give us different perspectives. We will each have our own reactions to the experience.
In a lot of ways, we won't even be the same people two, three or five years from now that we are today.
Every single day gives us a chance to have brand new experiences. Some are more memorable than others.
To me what is the most cherished of all is the opportunity to spend time and make new memories with the people who are most important to me.
A simple, happy day is one of life's greatest blessings.