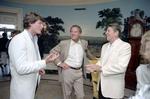 "You play the hand you're dealt. I think it's worthwhile."
                                                                                 ~ Christopher Reeve
Christopher Reeve was a true hero – a bigger hero than Superman. Unhappiness so often results from struggling against the hand we have been dealt. What if all of us instead choose to live as Christopher Reeve did, and we simply play the hand we're dealt without whining about it?
What a concept.
At the age of 42, Reeve was paralyzed from the neck down in a horse-riding accident. He didn't wallow in self-pity though. Instead he continued to be active in public speaking, working to raise awareness and funds for spinal cord injuries and for disabled people. His own organization, The Christopher and Dana Reeve Foundation is dedicated to finding treatment options and cures for spinal cord injuries and other neurological disorders. It also uses grants to help improve the quality of life of disabled people
There is a cliché that states that if life gives you lemons, make lemonade, and Christopher Reeve definitely lived by that philosophy. He said,
"I am a very lucky guy. I can testify before Congress. I can raise funds. I can raise awareness."
How many of us, if we were suddenly horribly disabled, would see ourselves as lucky? Would we be able to take the hand we're dealt and continue to play this hand with grace and dignity? Would we continue to have faith in our own ability to lead a life full of purpose and meaning?
What kept Christopher Reeve going was hope, and an inherent optimistic outlook.
He said,
"Once we choose hope, everything is possible."
No matter what our circumstances are, we can choose to be hopeful. We can choose to believe that we still have a purpose. We can believe in possibilities.
In the end, leading a successful life is about living a life motivated by giving, not getting. He said,
"Success is finding satisfaction in giving a little more than you take."