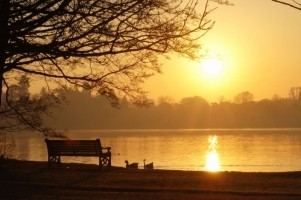 "It always seems impossible until it's done."
~ Nelson Mandela
When you set a goal and then see that goal through to its completion, it can give you a pretty good feeling.
I know, because I recently completed a book about happiness, which is something I have wanted to do for quite a while. The topic of happiness, particularly in the sense of spreading positive energy to people who might need to be lifted up, is something that is very dear to my heart.
In order to complete the book, like many writers, I had to overcome a bizarre inner resistance to doing the thing I wanted to do most. I've done a lot of ghostwriting for other people, but in the recent past (and as a middle-aged woman, the recent past encompasses probably at least a decade), I have done very little writing just because I wanted to. My focus has been primarily on writing what clients tell me to write, and on taking care of other people.
I've been having a hard time putting the focus on me, or my life or goals that I want to accomplish. It's been even harder to follow through and complete projects I start.
I have just been putting one foot in front of the other for years.
I have become clueless about life and about happiness.
Lessons and More Lessons
This blog and my book Happiness for the Clueless: 7 Simple Tips for a Happier Life have been evolving because I have an eager student who needs to learn about happiness, joy, contentment, satisfaction and inner peace.
The eager student is me.
I like to think the things I write about might be touching others who have been presented with challenges and difficulties that tripped them up or knocked them down.
Other writers have done that for me.
For as long as I can remember, I have drawn courage and strength from the writings of others, people like Maya Angelou and Wayne Dyer and Kahlil Gibran. During dark days, I have been comforted by the written words of people who took the time to share their thoughts in writing.
Getting to the Finish Line
Recently I found that I needed to prove to myself that I could actually complete a book that I started, a book that I wrote just because I wanted to write it and not because I had been hired to write it.
And then I decided to follow this project through to completion by releasing my book to the universe as an indie writer.
I did it.
My book Happiness for the Clueless: 7 Simple Tips for a Happier Life is free on Amazon from now until Saturday June 18.
My hope is that maybe my words will touch the lives of at least a few people. I even hope that maybe in taking the time to write this book, I might make a tiny difference.
I know that I have made a difference in one life.
My own.