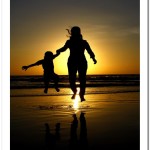 "Be happy for this one moment. This moment is your life."
                       ~ Omar Khayyam
You can choose happiness just for this one moment. You don't have to decide to be happy for the whole year or the whole week or even the whole day. Take a single moment out of today and choose to be happy.
Do you think this is difficult?
Life is full of bumps in the road and times that aren't perfect. If you're living a life that is full of sadness, loneliness or disappointment, bring your focus back to this one day and this one moment. Look for one thing or one person to appreciate right now.
If the sun is shining, enjoy the brilliance and the warmth.
If it's cold or rainy, experience the refreshment of the universe all around. Be grateful for your home where you have a roof over your head and a place to call your own.
If it is quiet around you, lean into the peace and tranquility you are able to experience in this moment.
If you have family or friends, feel the love that they bring to your life. Realize that children are growing and changing right in front of your eyes. So are flowers. So are trees. Life is ever-evolving and each individual moment is an irreplaceable gift.
Blessings All Around
 If you have a computer or a smart phone that allows you to access uplifting quotes, realize what a blessing that is. These devices also allow you to access social media where you can connect with other people at any time day or night.
Wow.
In this moment, notice that your ability to read is a wonderful gift that allows you to tap into the words of many people who have shared their wisdom and energy through poetry, prose or music.
This one moment in time won't be repeated. The things you see, smell and hear today won't pass this way again.
Savor this one moment and all the people and events that have led you here.
Embrace and enjoy the wonderful moments and experiences that make up your life.