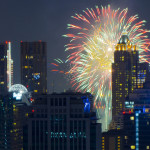 "Hope
Smiles from the threshold of the year to come,
Whispering 'it will be happier'…"
                        ~ Alfred Tennyson
All around the world, people gather to celebrate the arrival of a new year with fireworks, food, dancing and socializing. Some travel to exciting new locations just to experience seeing in the New Year in the company of others. Last night, celebrations were going on in Times Square, in London, in Dubai, in Australia. From small towns to big cities the world over, people gathered to watch the ball drop or to toast their glasses or to kiss at midnight.
What makes seeing in the New Year such an exciting experience?
When the calendar changes on New Year's Day, it brings with it a clear sense of hope.
It's a brand new year.
Absolutely anything is possible.
The previous year is behind us. Our mistakes and disappointments have passed and we have a brand new chance to try again.
What will the coming year bring?
Today is like a blank page, completely unspoiled, not yet written on or painted on or torn or wrinkled. The direction you choose today and for the coming year is completely up to you.
Embrace the possibilities.
Breathe in the joy that is today, the start of a new year.
What can you do to make this year a better year than last year?
What can you do to make today a happy and joyful day? How can you make this a happier year than last year?
You can choose to have a better life this year. It's a fresh start, a new beginning. Whatever your external circumstances, you can choose to be happy and content.
Let go of everything that hasn't gone exactly as planned. Forgive yourself for the resolutions you didn't keep last year, for the things you did or didn't do as well as you would have like.
It's ok. You did the best you could. And you get to try again.
What a joyful feeling of hope in all the possibilities that are ahead in the coming year.
The dreams you haven't realized yet can still be met in the future. If doors have closed in your face, there are better possibilities ahead, possibilities and opportunities you may not even have imagined yet.
The future can be much better than the past.
It all starts in the hope and the joy that is today.